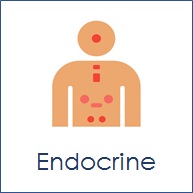 Side effects related to body chemistry, hormones and glands.
armpit discomfort; scar tissue; web of thick, rope like structures under the skin of your inner arm.
The following health professionals can help with Endocrine side effects. Follow the links below to learn more.
Acupuncture Therapist:
Acupuncture Therapists are people skilled in the practice of acupuncture, which is a family of procedures involving stimulation of anatomical locations on or in the skin by a variety of techniques.
Evidence:
Data from six prospective analysed studies indicate at least 3-month effects after the end of acupuncture treatment for flashes in women with breast cancer and men with prostate cancer.
Cancer Exercise Therapist:
Cancer Exercise Therapist main role is to help people achieve optimal health by providing information and advice about exercise.
Evidence:
Less physical activity increases the risk of hot flashes whereas daily exercise is associated with fewer instances. Exercise may also be associated with a shorter overall duration of each hot flash.
Exercise Physiologist:
Exercise Physiologists are university qualified allied health professionals, who specialise in clinical exercise interventions for persons at high-risk of developing, or with existing chronic and complex medical conditions and injuries. These interventions are provided by exercise delivery including health and physical activity education, advice and support and lifestyle modification with a strong focus on achieving behavioural change.
Evidence:
Physical activity can reduce the severity of hot flushes. The benefits of exercise in the setting of androgen-deprivation therapy (ADT) are similar to those observed in healthy older adults, with ADT patients experiencing substantial improvements in muscular strength and preservation of lean body mass.
Naturopath:
Naturopaths provide a complimentary medicine, by employing a wide array of ""natural"" treatments, including herbal medicine, diet and lifestyle counselling.
Evidence:
Studies of dietary supplementation with phytoestrogens have shown reduction in hot flashes.
Nutritionist:
Nutritionists main role is to help people achieve optimal health by providing information and advice about health and food choices.
Evidence:
Changing your diet can help boost your energy and control your hot flashes.
Pilates Instructor:
Pilates Instructors teach and coach groups or individuals in the fitness program referred to as Pilates. An instructor helps his students use Pilates to promote overall health, improve muscle tone and strength, and achieve better posture. Typically, Pilates instructors know hundreds of different exercises and can teach them to a general group or modify them to fit the needs of particular types of students. These instructors may even work with students as they recover from injuries or struggle with chronic health problems.
Evidence:
Relaxation training helped relieve hot flashes in women undergoing treatment for breast cancer.
Psychologist:
Psychologist can help people who are having difficulty coping with their diagnosis of cancer and its treatment. They can help people with behavioural issues and feelings of stress, anxiety, or depression and teach strategies to improve your ability to cope.
Evidence:
Cognitive behavioural therapy can have salutary effects on menopausal symptoms among patients with breast cancer experiencing treatment-induced menopause.
Social Worker:
The role of the oncology social worker is to help patients, families, and caregivers deal with the experience of facing cancer. Social workers are educated and skilled to assist with the psychological, social, emotional, and spiritual issues that people have to deal with in oncology.
Evidence:
hypnosis may be of significant benefit to women with breast cancer in reducing the frequency and severity of hot flushes and other benefits may include reduced anxiety and improved sleep.
Yoga Instructor:
Yoga Instructors teach a Hindu spiritual and ascetic discipline, a part of which, including breath control, simple meditation, and the adoption of specific bodily postures, is widely practised for health and relaxation.
Evidence:
There are beneficial effects from a comprehensive yoga program for hot flashes and other menopausal symptoms in early-stage breast cancer survivors. One type of yoga that's good for weight loss is Vinyasa, or flow yoga. This style of yoga is made up of a series of Sun Salutations that you move through quickly, allowing for the increased heart rate required for caloric burn and weight loss.