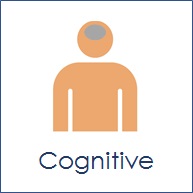 Side effects related to conscious intellectual activity such as thinking, reasoning, remembering, imagining, or learning.
difficulty concentrating or focusing; anxiety; mental fog; stress; disorientation; chemo brain; spatial orientation; memory loss; problems with understanding; poor judgment; difficulty reasoning; impaired organizational and language skills; problems multitasking; difficulty processing information; behavioural and emotional changes; severe confusion; hypersomnia; excessive daytime sleepiness; prolonged drowsiness; nightmares; insomnia; depression; irritability; reversal of day and night; personality changes; depression; hallucinations; decision making impairments; low mood
The following health professionals can help with Cognitive side effects. Follow the links below to learn more.
Acupuncture Therapist:
Acupuncture Therapists are people skilled in the practice of acupuncture, which is a family of procedures involving stimulation of anatomical locations on or in the skin by a variety of techniques.
Evidence:
Acupuncture significantly reduced insomnia and anxiety, with accompanying significant increases in nocturnal melatonin secretion and in polysomnographic measures.
Cancer Exercise Therapist:
Cancer Exercise Therapist main role is to help people achieve optimal health by providing information and advice about exercise.
Evidence:
Exercise intervention has positive effects on fatigue, anxiety, depression, and quality of life.
Dietician:
Dieticians advise individuals on nutrition-related matters and can modify diets to treat or help manage chronic conditions, food allergies and food intolerances.
Evidence:
Dietitians can help to maintain & optimise nutritional status through dietary counselling to reduce the risk of depression, emotional eating, binge eating, undesirable weight gain or loss & negative impacts on body image & self-esteem (with psychological support).
Exercise Physiologist:
Exercise Physiologists are university qualified allied health professionals, who specialise in clinical exercise interventions for persons at high-risk of developing, or with existing chronic and complex medical conditions and injuries. These interventions are provided by exercise delivery including health and physical activity education, advice and support and lifestyle modification with a strong focus on achieving behavioural change.
Evidence:
Physical activity during bed rest is advisable to help; reduce worrying about cancer, improve anxiety/depression/self-esteem/emotion/sexuality/sleep problem/body image/happiness and quality of life.
Naturopath:
Naturopaths provide a complimentary medicine, by employing a wide array of ""natural"" treatments, including herbal medicine, diet and lifestyle counselling.
Evidence:
Naturopathic treatment showed clinical and statistical significant improvements in anxiety and quality of life measures.
Nutritionist:
Nutritionists main role is to help people achieve optimal health by providing information and advice about health and food choices.
Evidence:
Nutritional interventions are associated with improvements in emotional functioning.
Occupational Therapist:
Occupational Therapists are the ""quality of life"" experts who can help get you back to living your life and engaging successfully in treasured daily activities. We can be found in hospitals, rehabilitation centers, hospice units, and home care. Our approach is client centered to help you identify meaningful goals and provision of the interventions that will help get you there. In most cases, occupational therapy is covered by private insurers as well as Medicaid or Medicare.
Evidence:
Occupational therapists can address the emotional and psychological wellbeing of women when working alongside other members of the health professional team to empower women by building their awareness of chemo brain, and embedding enablement skills within interventions and management strategies.
Oncology Massage Therapist:
Oncology Massage Therapists are nationally and internationally recognised.
Evidence:
Pain intensity and anxiety were diminished with relaxation and a sense of wellbeing increased.
Physiotherapist:
Physiotherapists are health care professionals concerned with human function, movement and maximising potential. A physiotherapist aims to improve physical activity, confidence, well-being and quality of life by improving physical and functional independence, refining movement, offering support and restoring a measure of control. They are comprehensively skilled to analyse, promote, maintain and restore the needs of the whole person.
Evidence:
There is significant difference in self-reported physical functioning, social functioning, mental health and general health with participation in a complex decongestive physiotherapy program.
Pilates Instructor:
Pilates Instructors teach and coach groups or individuals in the fitness program referred to as Pilates. An instructor helps his students use Pilates to promote overall health, improve muscle tone and strength, and achieve better posture. Typically, Pilates instructors know hundreds of different exercises and can teach them to a general group or modify them to fit the needs of particular types of students. These instructors may even work with students as they recover from injuries or struggle with chronic health problems.
Evidence:
Pilates research showed significant improvements in psychological parameters such as quality of life, mood, and body image.
Psychologist:
Psychologist can help people who are having difficulty coping with their diagnosis of cancer and its treatment. They can help people with behavioural issues and feelings of stress, anxiety, or depression and teach strategies to improve your ability to cope.
Evidence:
Cancer patients receiving psychosocial interventions had significantly lower rates of anxiety, depression and mood disturbances.
Social Worker:
The role of the oncology social worker is to help patients, families, and caregivers deal with the experience of facing cancer. Social workers are educated and skilled to assist with the psychological, social, emotional, and spiritual issues that people have to deal with in oncology.
Evidence:
Research has shown that the opportunity to discuss feelings with a member of the treatment team or a counsellor reduces psychological distress among cancer patients.
Yoga Instructor:
Yoga Instructors teach a Hindu spiritual and ascetic discipline, a part of which, including breath control, simple meditation, and the adoption of specific bodily postures, is widely practised for health and relaxation.
Evidence:
Research suggests possible antidepressant effects with yoga intervention in breast cancer patients undergoing conventional treatment.