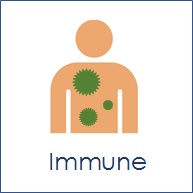 Side effects related to spleen, lymph nodes, bone marrow, leukocytes and neutrophils.
fever; chills; sweating; sore throat; sores in the mouth; toothache; abdominal pain; anus pain; burning when urinating; urinating often; diarrhea; sores around the anus; cough; shortness of breath; redness; swelling around a cut; wound; catheter; unusual vaginal discharge or itching; neutropenia; infection; fibrosis; viral hepatitis and graft verse host disease; thrush; herpes.
The following health professionals can help with Immune side effects. Follow the links below to learn more.
Acupuncture Therapist:
Acupuncture Therapists are people skilled in the practice of acupuncture, which is a family of procedures involving stimulation of anatomical locations on or in the skin by a variety of techniques.
Evidence:
Acupuncture can strengthen the immune system, calm the spirit and enhance the patient's sense of well-being.
Cancer Exercise Therapist:
Cancer Exercise Therapist main role is to help people achieve optimal health by providing information and advice about exercise.
Evidence:
Experiments have shown that exercise can improve innate immune activity.
Dietician:
Dieticians advise individuals on nutrition-related matters and can modify diets to treat or help manage chronic conditions, food allergies and food intolerances.
Evidence:
Dietitians provide advice to help minimise the risk of food borne illnesses & infections.
Exercise Physiologist:
Exercise Physiologists are university qualified allied health professionals, who specialise in clinical exercise interventions for persons at high-risk of developing, or with existing chronic and complex medical conditions and injuries. These interventions are provided by exercise delivery including health and physical activity education, advice and support and lifestyle modification with a strong focus on achieving behavioural change.
Evidence:
Dietitians provide individual dietary suggestions based on your nutrition difficulties. They will understand the reasons you may have a poor appetite, diarrhoea, feel full quickly, have taste changes, bloating or constipation among many other side effects. Dietitians provide advice to ensure you're having appropriate calories, protein, fluid, electrolytes, & other nutrients if you have compromised organ function e.g. kidneys, heart, lungs.
Naturopath:
Naturopaths provide a complimentary medicine, by employing a wide array of ""natural"" treatments, including herbal medicine, diet and lifestyle counselling.
Evidence:
Enhance general immune function, specific immune recognition and cytotoxic activity.
Nutritionist:
Nutritionists main role is to help people achieve optimal health by providing information and advice about health and food choices.
Evidence:
Studies have shown that nutritional intervention may be a promising approach to reversing impaired immune function.
Oncology Massage Therapist:
Oncology Massage Therapists are nationally and internationally recognised.
Evidence:
Veterans with advanced illnesses found that massage decreased pain intensity and anxiety, and increased their sense of relaxation and inner peace reducing the workload on an impaired immune system.
Pilates Instructor:
Pilates Instructors teach and coach groups or individuals in the fitness program referred to as Pilates. An instructor helps his students use Pilates to promote overall health, improve muscle tone and strength, and achieve better posture. Typically, Pilates instructors know hundreds of different exercises and can teach them to a general group or modify them to fit the needs of particular types of students. These instructors may even work with students as they recover from injuries or struggle with chronic health problems.
Evidence:
Pilates can create an anti-inflammatory response similar to a drug and help protect against cognitive decline in people with cancer.
Social Worker:
The role of the oncology social worker is to help patients, families, and caregivers deal with the experience of facing cancer. Social workers are educated and skilled to assist with the psychological, social, emotional, and spiritual issues that people have to deal with in oncology.
Evidence:
evidence is available that hypnosis can modify the production and activity of components of the immune system and the immune response as measured by B-cells, T-cells, and helper cells and suppressor cells.
Yoga Instructor:
Yoga Instructors teach a Hindu spiritual and ascetic discipline, a part of which, including breath control, simple meditation, and the adoption of specific bodily postures, is widely practiced for health and relaxation.
Evidence:
Regular yoga practice is a low-risk, cost-effective way to reduce inflammation.