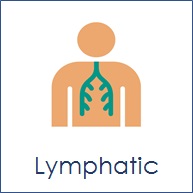 Side effects related to lymph fluid, white blood cells and lymph nodes including removal of lymph nodes.
lymphedema; impairment in arm function; swelling.
The following health professionals can help with Lymphatic side effects. Follow the links below to learn more.
Acupuncture Therapist:
Acupuncture Therapists are people skilled in the practice of acupuncture, which is a family of procedures involving stimulation of anatomical locations on or in the skin by a variety of techniques.
Evidence:
Studies have found that acupuncture was an acceptable intervention in women with upper limb lymphedema after breast cancer treatment.
Cancer Exercise Therapist:
Cancer Exercise Therapist main role is to help people achieve optimal health by providing information and advice about exercise.
Evidence:
significant reduction of total arm volume as well as both absolute and relative lymphedema volume, implying that pole walking can be included in arm lymphedema treatment programs.
Dietician:
Dieticians advise individuals on nutrition-related matters and can modify diets to treat or help manage chronic conditions, food allergies and food intolerances.
Evidence:
If overweight, weight loss is encouraged for people with lymphedema to help improve lymph flow.
Exercise Physiologist:
Exercise Physiologists are university qualified allied health professionals, who specialise in clinical exercise interventions for persons at high-risk of developing, or with existing chronic and complex medical conditions and injuries. These interventions are provided by exercise delivery including health and physical activity education, advice and support and lifestyle modification with a strong focus on achieving behavioural change.
Evidence:
Physical activity is not only safe, but can actually reduce the incidence and severity of lymphedema.
Naturopath:
Naturopaths provide a complimentary medicine, by employing a wide array of ""natural"" treatments, including herbal medicine, diet and lifestyle counselling.
Evidence:
There are a number of herbs and herbal preparations which are said to help achieve increased lymphatic flow, reduce swelling and blood-vessel inflammation and/or strengthen lymphatic vessel walls.
Nutritionist:
Nutritionists main role is to help people achieve optimal health by providing information and advice about health and food choices.
Evidence:
Your body needs protein to remain healthy. Eating too little protein can lead to fluid seeping from your bloodstream into your tissues, worsening existing lymphedema.
Occupational Therapist:
Occupational Therapists are the ""quality of life"" experts who can help get you back to living your life and engaging successfully in treasured daily activities. We can be found in hospitals, rehabilitation centers, hospice units, and home care. Our approach is client centered to help you identify meaningful goals and provision of the interventions that will help get you there. In most cases, occupational therapy is covered by private insurers as well as Medicaid or Medicare.
Evidence:
Assessment and treatment of early lymphedema can result in return to normal lymph function for some. Skin care, exercise, compression garments and injury risk reduction can reduce incidence of lymphedema. Lymphedema massage, exercise, low level laser and compression garments can reduce swelling (lymphatic fluid) in the affected body part.
Oncology Massage Therapist:
Oncology Massage Therapists are nationally and internationally recognised.
Evidence:
Massage therapy stimulates lymph flow by encouraging the opening and closing of the valves in lymph capillaries and vessels.
Physiotherapist:
Physiotherapists are health care professionals concerned with human function, movement and maximising potential. A physiotherapist aims to improve physical activity, confidence, well-being and quality of life by improving physical and functional independence, refining movement, offering support and restoring a measure of control. They are comprehensively skilled to analyse, promote, maintain and restore the needs of the whole person.
Evidence:
Research suggests significant improvements are made in the quality of life of cancer patients with unilateral lymphedema after complex decongestive physiotherapy, which is necessarily correlated with limb reduction.
Pilates Instructor:
Pilates Instructors teach and coach groups or individuals in the fitness program referred to as Pilates. An instructor helps his students use Pilates to promote overall health, improve muscle tone and strength, and achieve better posture. Typically, Pilates instructors know hundreds of different exercises and can teach them to a general group or modify them to fit the needs of particular types of students. These instructors may even work with students as they recover from injuries or struggle with chronic health problems.
Evidence:
Diaphragmatic breathing is used in Pilates both to stabilize and mobilize the spine, this enhances trunk organization. Lymphatic fluid can be propelled through the body with this type of breathing, along with proximal to distal exercise.
Yoga Instructor:
Yoga Instructors teach a Hindu spiritual and ascetic discipline, a part of which, including breath control, simple meditation, and the adoption of specific bodily postures, is widely practised for health and relaxation.
Evidence:
yoga intervention reduced tissue induration of the affected upper arm.